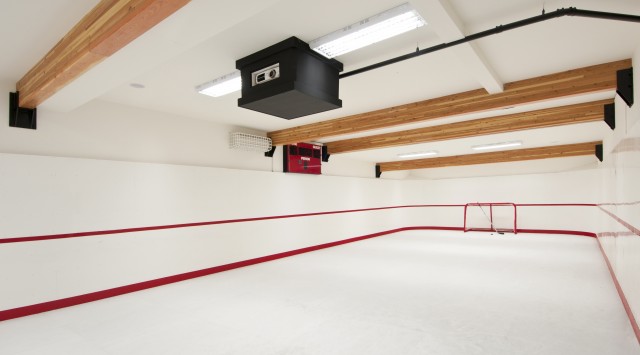 Home builders recognize the best designs on the Island
When a hockey-loving Langford family has the urge to play, they just head to their in-home 56-foot-by-24-foot synthetic ice rink.
And when a musical Qualicum Beach family wants to pluck on a harp, there's one built into the staircase of their home.
Such features illustrate a trend of homeowners personalizing their nests.
These homes are among finalists in the Construction Achievements and Renovations of Excellence (CARE) Awards handed out annually by the Canadian Home Builders' Associations of Vancouver Island.
Home builders are seeing a "tremendous emphasis on sustainability, environmentally friendly products and energy efficiency, " Casey Edge, executive officer of the CHBA's Victoria office, said Monday. Many of the association's builder members have completed the Built Green program promoting construction.
Today's builders are seeing higher interest in solar power and cisterns, for example, he said.
Clients are giving builders more input about what they want in their homes, Edge said. "They want it to reflect their lifestyles and their personalities."
West Coast contemporary-style homes using local materials such as cedar are popular, he said. "I think Vancouver Island does it better than anybody else."
Amenities in custom homes can include media rooms, audio systems and theatres, Edge said. One finalist this year features a theatre complete with lush curtains.
The business environment these days is challenging, he said, adding that the cost to build a house has dropped significantly since the market's hot period in 2007.
Geoff Hobson, owner of Hobson Woodworks Inc., a contractor on Spirit Ridge, the home with the ice rink, is a finalist in the CARE category for best interior for a residential home of more than 6,000 square feet, and in the category for best custom millwork in a house of more than 5,500 square feet.
The synthetic ice rink was created out of four-foot by-four-foot panels with a seven-year lifespan on each side, he said. This product is said to be 92 per cent as efficient as real ice. Dressing rooms, sturdy floors built to withstand skate blades, an electronic scoreboard and Jumbotron are all part of the project.
Builder Dan McLeod, of Camelot Homes, is a finalist in eight categories for the Music by the Sea house in Qualicum Beach. As well as the custom-built harp incorporated into the foot of one of the banisters, it has a working violin built into the front door. The wife is a musician, and the couple's sons are also musicians. The sons are represented by seahorses, found in designs throughout the house.
This is once-in-a-lifetime project, said McLeod.
"Everything is custom, custom, custom throughout the house."
The house is also fitted out with the latest in automatic controls. "Everything can be operated from a phone," McLeod said.
CARE winners will be announced Sept. 14 at the awards gala at the Fairmont Empress Hotel.
The public can vote for the people's choice award as of Aug. 6 at www.careawards.com.