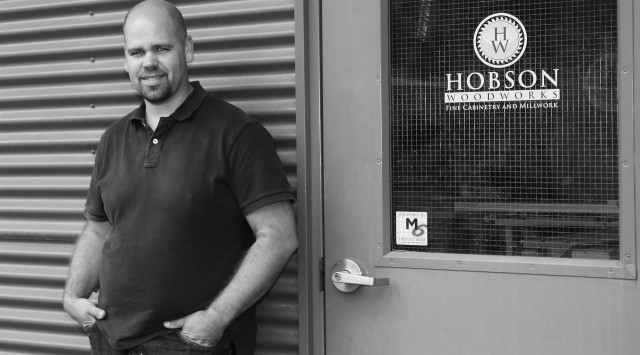 Geoff Hobson left the fishing industry in 2004 to pursue his hobby: woodworking. Now his dream of providing a complete carpentry service has finally come to fruition. Hobson Woodworks is a custom finish carpentry and millwork company based out of Victoria, specializing in a variety of interior woodworking services including banisters, trimming, custom built-ins, coffered ceilings and custom storage systems or cabinetry.
What makes Hobson Woodworks unique is it's all-inclusive service. Everything is done in house: from the raw stock to the finished product. Hobson can do it all on site thanks to their millwork and cabinetry division, launched this year. The 3200 square foot facility on the West Shore takes in lumber, cuts to the specified measurements, stains and treats the wood, and ships it to crews on site who install the product in extremely high-end homes, like the 13,000 square foot, multi-million dollar beauty on Beach Drive that they are currently working on.
"At most jobs you need a closet company, a handrail guy, a finish carpenter, and a cabinetry company. With us, we are able to provide all these services under one company."  What used to be a "one-man-band" has expanded to 14 employees in what Geoff, General Manager and Owner, calls a "steady growth." Hobson Woodworks has completed work for 2009 SAM award winner Abstract Developments, Christopher Developments, Houston Homes and many others.
This year, Hobson Woodworks was entered into three categories for the CARE awards (Victoria) and were finalists in all three.
"I am proud of the work my staff have completed on some of the most beautiful homes in Victoria."
"Often there is 600-1000 man-hours of labour on finish carpentry. With that kind of blood, sweat, and tears, its good to get recognition."
In the coming years, growth in capacity will be checked by excellence and quality. "At no expense will we sacrifice the best product possible. First and foremost, our benchmark is quality and customer service."