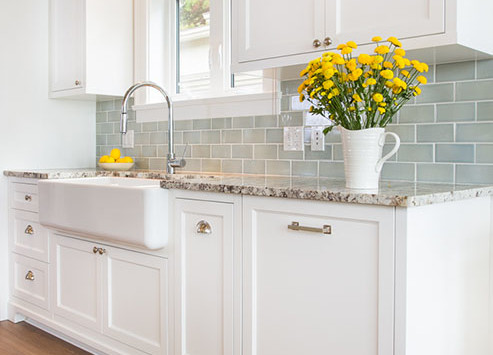 Hobson Woodworks Wins Gold at the 2015 Care Awards.
Best Traditional Kitchen 200 – 300 sq. ft.
Christopher Developments, Hobson Woodworks and Zebra Design – Pebble Cove
Times Colonist story below.
 CANADA'S FINEST WEST COAST HOMES SHOWCASED AT 2015 CARE AWARDS
VICTORIA – Canada's leaders in sustainable West Coast design and construction showcased their projects at the 2015 Construction Achievements and Renovations of Excellence (CARE) Awards of Vancouver Island on Saturday, October 17 at the Fairmont Empress Hotel.
More than 50 awards were presented at the CARE Awards attended by 275 builders, renovators, designers, trades, suppliers – members of the Victoria Residential Builders Association www.vrba.ca.
"Hawks Nest" by KB Design and Jason Powell Construction was the big winner capturing five Gold CARE Awards including Project of the Year – Single Family. Winning Project of the Year – Multi-Family was "Retirement Community in Campbell River" by Denford Construction Management Ltd, a multiple Gold winner. The People's Choice Award went to "Moderne" by Urban Core Ventures, a multiple Gold winner also receiving the Award for Creating Excellence in Housing Affordability for "Latitude Living" a multi-family project created through a public/private partnership.
Other multiple Gold winners included Abstract Developments, Christopher Developments, Concert Real Estate Corporation, Gorter Construction Ltd, Homewood Constructors Ltd, Jason Good Custom Cabinets, Jenny Martin Design, Limona Group, Parsi Development Ltd,
R. Parsons Construction Ltd, South Shore Cabinetry, The Sky is the Limit Design, Thomas Philips Woodworking, Three Sixty Degree Construction Ltd; Verity Construction, and
Zebra Design.
"Congratulations to the Gold CARE Award winners and Finalists for their outstanding projects highlighting creativity, craftsmanship and sustainability," says Bill Patterson, Chair of the 2015 CARE Awards.
Green Builder of the Year was awarded to the Limona Group for sustainable building practices. Lifetime Achievement Award went to Allan McLaren, President of McLaren Properties for industry professionalism and contribution to the community. Gordon English, Genco Construction won the Industry Leadership and Pursuit of Excellence Award for leadership in achieving new education and training standards in BC. John Sercombe, Limona Group won the Bill Wansbrough Memorial Award for promoting regulatory reform. The Building Better Futures Community Award was presented to Saanich Councillor Fred Haynes for his work on housing affordability. The Herman Rebneris Student Carpentry Award was won by two students – Jake Schuttinga, Edward Milne Community School and Solomon Lindsay, Victoria High School. Best Apprentice went to Justin Denoble of Thomas Philips Woodworking. Each student receives $500 to further their education.
"The CARE Awards is Canada's premier event celebrating the very best in West Coast homes and the people behind them," says Casey Edge, Executive Director, VRBA.
Photos of the 2015 CARE Awards winners and finalists will be posted at www.careawards.ca.
Best Traditional Kitchen 200 – 300 sq. ft.
Christopher Developments, Hobson Woodworks and Zebra Design – Pebble Cove