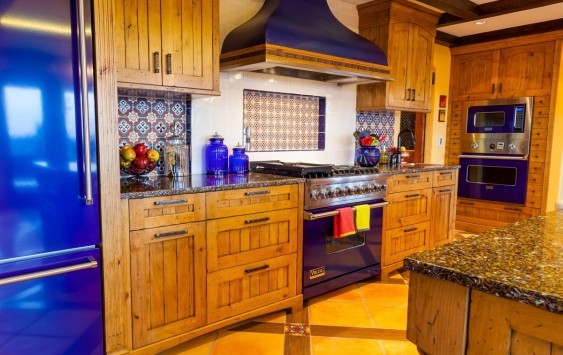 Grania Litwin / Times Colonist
"This is my wife's pride and joy," said Michael Miller, as he swung open a door leading off the kitchen.
"It's true, I could live in here," said Monica, whose eyes sparkle with enthusiasm at the mere mention of her tiny, perfect pantry.
"This room was at the top of my list when we decided to renovate. I've always dreamed of a walk-in pantry with everything handy, everything visible and within easy reach."
The custom-made shelves at the right are shallow, so jars and cans are easily displayed, while shelves on the left are deep and designed to hold small appliances such as a toaster, coffee maker, meat slicer, blender and mixer. Beneath these are veggie drawers, with ventilation through beautiful inset grillwork.
"Our designer suggested we put the same metal grillwork in the top of the door here," she said, and then suddenly asked with a giggle, "You aren't Catholic are you? I'm not either, but it reminds me of a confessional. Forgive me father…."
Monica beams with happiness as she continues the grand tour of her jewel-box pantry, opening drawers to display small implement and hardware dividers, showing how the saloon-style door swings but can be softly caught by a magnet if she needs it to stay open.
"It's a very utilitarian room, but I love it," she said, pointing out the low-cost, easy care yellow Formica countertops, which make the room sunny and cheerful.
The same two words can be applied to the entire house, and that vibrancy is no surprise considering Monica spent her first 20 years in Mexico City and Michael has long shared an affinity for the warm hues and beautiful imagery of those southern climes.
Years ago his mother gave him a painting of Mexican pottery, which became a favourite, and he recently came across a clipping he took from the Times Colonist decades ago, of a gorgeous hacienda interior. It's a design theme he and his wife both enjoy and feel comfortable with.
Most of the renovation took place unobtrusively, behind a dense five-metre hedge that was removed at the end of the project, so the owners can now enjoy unobstructed views of Uplands Golf Course. "Suddenly people could see our home and it was kind of cool, like the big reveal," Monica said with a chuckle.
The kitchen was a key part of the renovation, said Monica, who loves to cook. Growing up in Mexico she spent long hours in the kitchen with her grandmother, then studied international business, worked for one of the biggest banks in Mexico City and had a career with the Latin American division of Warner Brothers.
The Millers, who have been married for 14 years, bought their 1954 Lansdowne ridge home in 2001.
"We did a partial reno right away," said Michael, noting the previous kitchen was baby blue and most of the house was "Barbie Doll flesh tone."
They wanted to liven up the colours while ensuring the style didn't look out of place here. They interviewed four designers and explained they wanted a refined, elegant look, not a Café Mexico vibe, but Ines Hanl was the designer who really got it.
"As usually happens, the reno morphed and what started as a kitchen expansion spread onto the deck," said Michael. After turning the old deck into a dining room addition, they created a new outside barbecue area, "then blew out walls between the kitchen, dining room and breakfast nook and reconfigured it into one great room."
One of Monica's delights was to create "a hall of fame" room where all her husband's baseball memorabilia could be displayed, which could also serve as his dressing room since he rises early for work as a commercial real-estate broker.
"He is into sports in a big way, especially baseball, and this started as a surprise for him when he was away on a business trip. The room used to have dark paisley paper and matching drapes. It was a bit like a dungeon," but is now enlivened with ballpark posters, tickets, photos, artwork and a dozens of caps.
"Every year, three buddies and I pick a park, or a couple of parks, and spend 10 days having a baseball fix," said Michael.
Abstract Developments was the contractor, "and their attention to detail is incredible."
They lowered all the windows, and added a barrel ceiling over the kitchen island and front entry. Hobson Woodworks did all the cabinetry.
The cabinet in the tiny powder room — visually expanded thanks to a mirror edged in faux columns and arch — is navy blue, and its wooden countertop holds a hand-painted Talavera sink, a type of majolica pottery brought to Mexico by the Spanish in the 16th century. Reproductions of Diego Rivera hang on the walls.
All of the home's tile was hand painted in Mexico, and there are literally thousands of pieces. "We spent countless hours doing research. It was truly overwhelming," said Michael.
Three tons of tile were used, from the kitchen and bathrooms to entry and front patio. They even found a tile that looks like strips of wood, to divide the kitchen floor tiles, and a tile "carpet" was custom designed for the foyer.
"I wasn't a big fan of that at first, but eventually they won me over," said Michael.
All the wall paints in the home are inspired by food, such as the mango coloured dining room, papaya living room and butter yellow entrance, "but we didn't want a Taco Bell look, and no papier-mâché figures," joked Monica.
The designer, from The Sky is the Limit, said it was one of the most difficult jobs she's ever done because it involved blending so many techniques, textures, patterns, materials and 16 colours.
"There was so much going on," said Hanl, and the challenge was making sure it all worked and conveyed a sense of calm. "Getting the trades to do something different was another challenge."
Her early experience in theatre set and costumed design in Germany helped.
"I met a costume designer from Japan who had an acute sense of mixing and matching, an amazing skill and a really fine eye. This had a big impact on me as a young designer," said Hanl, who has worked in Bonn, Munich, Frankfurt, Dusseldorf and Cologne.
"The colours are more subtle here than the owners originally wanted, but still about two notches above anything I've ever done before," she said with a laugh, "and we had to pick materials that could speak Spanish or Mexican but move up to Victoria and suit this esthetic."
Using polyurethane "beams" was another risk. "I had never used them before and it was tricky. A total purist would want the real thing, but this product is lightweight, a fraction of the cost and we liked the look."
The home is more Spanish hacienda in style than Mexican, said the designer who used to have a house in Yucatan, and describers herself as a "tribal girl."
"My parents came from Bohemia originally and my mother used very bright colours and strong flowing patterns. She used heirloom crystal pieces in royal blue, emerald green, rich red and they appealed to me immensely — even though that style wasn't celebrated then."
Since then, Hanl has loved creating homes that work like sets for the characters who live there and want to star in their own plays.
– See more at: http://www.timescolonist.com/life/homes/house-beautiful-in-the-mood-for-mexican-decor-1.854259#sthash.A3Wt7iHh.dpuf