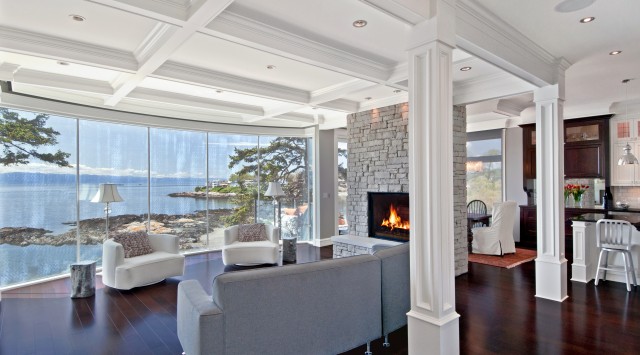 VICTORIA – Outstanding west coast design and creativity highlight the 2012 Construction Achievements and Renovations of Excellence (CARE) Awards finalists announced today by the Canadian Home Builders' Associations of Vancouver Island. The finalists demonstrate what's possible, ranging from stylish garden suites to dream homes with unique personal touches.
"Consumers and contractors alike will enjoy these finely crafted homes, with attention paid to energy efficiency and natural materials," says Lee MacFarlane, CARE Awards Chair. "The finalists continue the CARE Awards tradition of raising the bar for homebuyers and the industry."
The CARE Awards finalists are selected by a panel of industry professionals using criteria such as architectural design, quality workmanship, creative use of space, and energy efficiency. The categories are Residential Planning Design & Construction; Interior Design; Commercial Planning & Design; Customer Service; Sales & Marketing; Special Achievement; and Special Interest.
The Gold winners will be announced at the CARE Awards gala on Friday, September 14 at the Fairmont Empress Hotel. In August and September, the public will be asked to select the winner of the annual People's Choice Award from among the CARE Awards finalists. Finalists' photos will be displayed at www.careawards.com and at advertised locations. Voters will be entered to win a stay at Long Beach Lodge Resort, www.longbeachlodgeresort.com, 2002 CARE Awards Project of the Year.
"The People's Choice Award is the public's opportunity to view some of the top renovation and new home projects on Vancouver Island," says Casey Edge, Executive Officer, CHBA-Victoria. "We invite consumers to join us by voting for their favourite CARE Awards finalist at www.careawards.com starting August 6."
The Canadian Home Builders' Associations (CHBA) of Vancouver Island created the Construction Achievements and Renovations of Excellence (CARE) Awards in 1991 to recognize the west coast's creative design and craftsmanship, and celebrate excellence in the industry.
Categories Hobson Woodworks in nominated for:
Best Interior – Residential over 6,000 sq. ft. – Hobson Woodworks Inc. – Spirit Ridge
Best Custom Millwork 2,500 – 5,500 sq. ft.  – Hobson Woodworks Inc. – Crescent
Best Custom Millwork over 5,500 sq. ft.  – Hobson Woodworks Inc. – Spirit Ridge