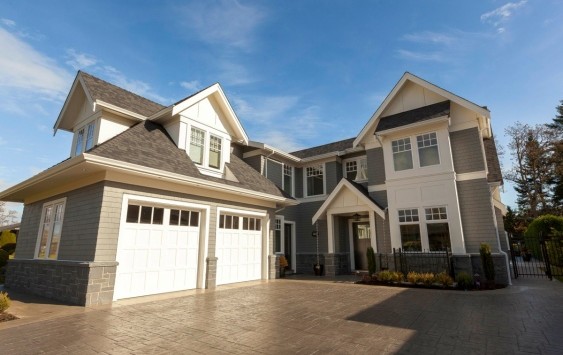 Story By Grania Litwin/Times Colonist
Ashley and Cory have a growing family — with three young daughters and a teenager, too — so three years ago they began looking for a larger house, or perhaps a lot to build on.
They wanted to stay in the same neighbourhood, so their quest presented a bit of a challenge.
"I always wanted to live in this area because both my husband and I grew up nearby," said Ashley.
"So when this property came up for sale I immediately fell in love with it because it was so close by, on a dead-end, backing onto Uplands Golf Course, and it had a huge back yard."
An existing, older bungalow could be torn down, and Ashley knew they could create an ideal family home there for their children — aged five months, two, four and 17.
Their previous house, just a 10-minute walk away from the new home, had been on a sloped and rocky lot and featured 25 steps to the front door. "So it was not a really great place for kids to play, compared to this property, which is completely flat and wonderful for children."
They put in a low offer and when it was rejected Ashley was downhearted.
"I was really disappointed, but my husband said we'd come back in a few months and see if the sellers had changed their mind, and I could see the sense in that."
Unbeknownst to her, Cory, who is a paving company manager, continued to negotiate on the sly and eventually managed to buy the property, which had previously been owned by two sisters, who left everything to the SPCA.
Soon after he wrapped up the deal, Cory managed to find a huge red ribbon and tie it around the house with a big bow. He then took his wife for a drive on her birthday and: Surprise!
Cory and Ashley (who asked that their last name not be published) took possession just over a year ago and started planning their dream home immediately, with the help of Rus Collins at Zebra Design.
Demolition started Jan. 3.
"And that was fascinating to watch. The whole house was torn down in about 20 minutes by a huge excavator," said Ashley, an elementary school teacher.
Ashley was ready for the next phase of the project. She had loads of design ideas, having been collecting pictures of all the homes she loved for years, and working out configurations that would best suit the needs of her four girls.
One of her most loved spaces is the new house is the mudroom, with its low row of benches, shelves, baskets, high cupboards and hooks to keep everything super organized.
"I think this actually may be my favourite room in the house," she joked. "It's a great way to corral all the stuff."
Ashley had cut out pictures of mudrooms in magazines, looked on home-design websites and toured several local homes before deciding what kind of mudroom she wanted.
This one ended up as an amalgam of all her favourite ideas, which she then gave to Harbour City Kitchens for creation. The same company did the kitchen and playroom cabinets.
Another special place is the master ensuite which has a spa-like atmosphere, with tile, marble and splashes of aqua.
"I like a very clean and simple look, with bright lights. We added a little sparkle over the tub with a chandelier and I love the fact that three of us can all get in at the same time."
The floor tile is classic Carrera marble in a honeycomb pattern, and wainscoted walls are topped in a marble crown. The backsplash is finished in a light-coloured subway tile.
The master bedroom fireplace is faced in the same Carrera marble because the owners wanted to create a feeling of continuity from room to room. "For instance, the same black granite that we used on the kitchen island was also for the den and living room fireplaces."
Karin Larson was the contractor and although she had previously done several renovations, this was her first new home, from the ground up. "And she was great," said Ashley, who added Melanie Smith Developments helped with fabric selection for the 5,200-square-foot house, while Lorin Turner at Zebra helped with interior design.
"I met with Lorin many times throughout the project. I would have a list of decisions to make and would show her everything I'd selected and then get a yes or a no. She was my sounding board. She also provided lots of samples of countertops, tiles and paint colours. "We used a pretty simple palette, two grey-pewter shades by Benjamin Moore."
All of the millwork, including mantels, coffered ceilings, wainscoting, stair banisters and baby-proof gates was made by Hobson Woodworks.
"Geoff Hobson was recommended to us by a friend and he was amazing, the best trade of all. Some of the trades are not the greatest around people, or kids, but his crew was fantastic."
The main floor has 10-foot ceilings, while those upstairs and down are nine, and all the doors are eight feet tall for a feeling of space and generous scale.
A double barn door separates the living room from the kids' play area and Ashley found the hardware for it online, "at about a quarter the price of in town."
The owners didn't want a double door at the front of the house. "My husband wanted a single one instead, but a really big door like we had in our previous house. This one is four feet wide and gives the house an old-fashioned look."
She says the classic kitchen is another feature she's fond of.
"I wanted an open-space kitchen which would be a large gathering space for all our family, and friends. We all gather here and the kids can play outside where we can see the whole backyard and keep an eye on them.
Ashley and Cory like the look of modern homes, but not to live in themselves.
"And although this home has high ceilings and big open spaces, it's still very cosy feeling. We hope to live here for the rest of their lives. It's a great family home."
– See more at: http://www.timescolonist.com/life/house-beautiful-new-house-designed-to-be-family-friendly-1.758428#sthash.gdKsyFaZ.dpuf